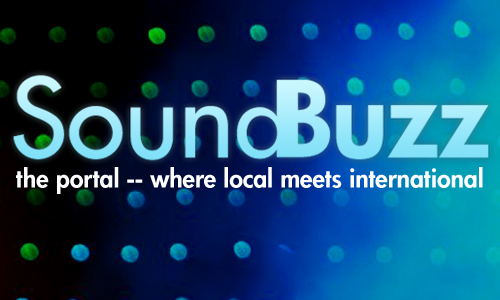 Ajah Onu LIVE on SOUNDBUZZ!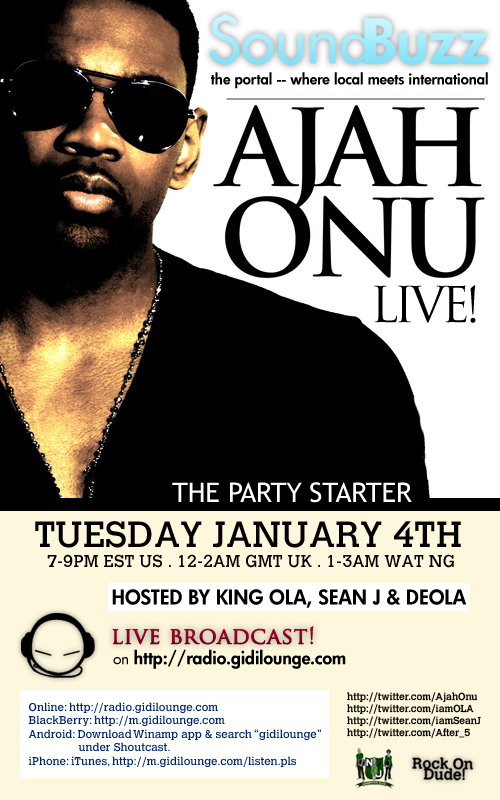 NEXT TUESDAY… JANUARY 4TH. 7-9pm US, 12-2am UK, 1-3am NG
LIVE INTERVIEW with AJAH ONU "Mr. Party Starter" on #SoundBuzz with KING OLA, SEAN J and DEOLA on Gidilounge Radio.
SHOW UPDATE:

About Ajah Onu:
AJAH ONU HAS RE-RELEASED HIS FIRST HIT SINGLE "CHINYE"!
AFTER A SUMMER FULL OF TOURING IN THE UNITED STATES ALONG SIDE THE GREATEST NIGERIAN ARTISTS SUCH AS PSQUARE, BRACKET, TIMAYA, WANDE COAL, BANKY W, YQ, MIKE OKRI, M.I., AND OTHERS, AFRIKAN POP RECORDING ARTIST AJAH ONU HAS RETURNED TO THE STUDIO AND IS IN RARE FORM AS HE RECORDS ON HIS DEBUT SINGLE TO TAKE THE AIR WAIVES IN NIGERIA BY STORM! THE BRAND NEW SONG FROM AJAH ONU ENTITLED "I NO GO BREAK YOUR HEART" IS A MAJOR TREAT FOR HIS CURRENT AND SOON TO BE FANS AS HE WARMS THE SCENE UP FOR HIS ENTRANCE TO THE TOP OF THE CHARTS!
CHECK OUT AJAH ONU'S TELEVISION DEBUT TO AIR IN NIGERIA:

CHECK OUT AJAH'S #1 LOVE BALLAD "I NO GO BREAK YOUR HEART" ON THIS LINK:

Ladies! Have you ever heard vocals so silky-cool and lyrics so passionate and smooth spread on top of irresistable looks that disturb your cool? Well, allow me to introduce you! Ajah Onu is a revolutionary new breed of rare, exotic talent. Based in Atlanta, Ga, USA, the crooner's stellar ability to twist in and out of rhymes, while combining a hot mixture of Afro-pop, a smooth blend of American pop culture and African rhythms, creates his unique and spell-binding sound. Born to a Nigerian father and American mother, Onu is able to mezmorize his audiences with sharp dance moves that rip the stage apart from within true beats of soul. In addition, the talented musician often produces the catchy rhythms that groove so freely through the speakers, writes the addictive melodies that soak into your mind, and often choreographing his impressive dance steps, thus certifying Onu as a "Quadriple Threat"!
Ajah began his musical odyssey in 2002, while he was in secondary school, by joining a singing trio which called itself Ax'ent. After three years of dreaming to be successful but aimlessly swinging at the goal, Ax'ent failed. The groups eventual despair in 2005 did not discourage the entertainer from the goal of being a successful musician. It led him into the development of his promising solo career to date. As a young solo artist, Onu began to search for a new identity despite the heavy pressure of his father (whom he has always looked up to) to "grow up" and forget about this "dream". This was an enormous blow to the artist. Feeling misunderstood and unsupported, Ajah vigorously studied other successful entertainers such as Tuface, P-square, Michael Jackon and Bobby Brown. Onu began to drive his career behind the idea of "proving people wrong". After almost four years of continuously working at his craft and experiencing minimal "highs" and numerous "lows", Ajah Onu has now emerged as one of the hottest budding talents in the industry today featuring his undeniable swagger and acute attention to detail!
Ajah Onu is truly from a different cloth. He is as good as it gets. As you find yourself amongst Ajah's growing amount of dedicated followers, the artist's musical odysseys guarantee to leave a lasting impression when you board his musical ship!