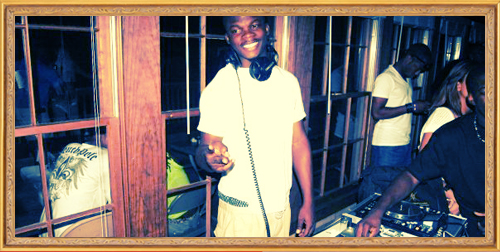 I Own A Lot Of Domains!
Or at least i think so… So as you all know by now my is Olajide Olaolorun, a Nigerian name meaning Wealth Of God, Rise Up. My first domain was http://empirex.net which was a site i ran for years after moving out of my http://tripod.com & http://angelfire.com free apartment… this will take you to my early years of web design and how i got into this whole geeky thing back in 2001. empirex.net was a site about anything, meaning whatever i wanted, i put on there. At one point i think i even plagiarism anime info on there and got contacted by the real author. 😆
My next domain name http://olajideolaolorun.com was registered 7/8/2004, it was my personal space. I love my name and after getting of the kiddy mindset thing with the aliases (which is why i still have empirex on my SourceForge account) i wanted to use my name on my work more. Since  olajideolaolorun.com i stocked up on domain names like a dope kid stocking up on Dunks. 😆
Anyways i used to have more than this, but after expiration dates and thinking if i really need them, i shut most of them down by not registering/paying the bills.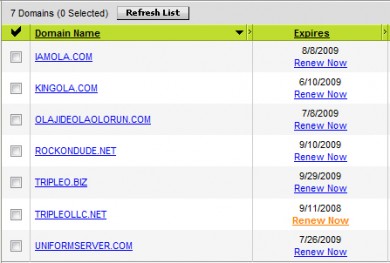 As you can see, http://tripleollc.net is up on line for eviction, it only links to tripleo.biz and i even think that at one point i had up to 5 domain names linking to tripleo.biz. Do you know how long i had olajideolaolorun.com with no content on there? not to mention triple.biz with no content but having like 5 domain names link to it? 😆
Moving on, a recent trip to irc://irc.freenode.net/css (CSS Channel on FreeNode IRC) releaved to me that my name was a. too long b. cannot be remembered by anyone (well, unless you Nigerian.) After a few good 24hours, i thought about it and decided to register a new domain name. I didnt know what name to chose, but i knew it had to go with my real name. (Ideas: mynameisola.com, mynameisolajide.com, iamola.com, or iamolajide.com) so i asked a friend and he went with http://iamola.com and within a few minutes, thanks to my favorite domain name dealer, GoDaddy i was able to get a new domain name for less than 8 bucks thanks to a coupon code.
Within the same minute everything was up and running, i changed the nameservers to mine, added it as an addon domain to olajideolaolorun.com, relinked my blog and made a few edits around the site, but in all, everything should be just like 10 minutes ago 😉